Yesterday's Mail
$

0.99
Five of today's Best-selling Christian Authors weave five unique, connected stories where lost mail finds unexpected purpose.
90 Day Meditation Challenge: How To Build A Daily Mindfulness Practice
$

4.99
Have you thought of Meditating, but don't know where to start? Or do you struggle to Meditate consistently? Does the whole thing just seem too time-consuming?Then this book is for you! Meditation has a countless list of scientifically proven health benefits to help you overcome negativity, live happier and healthier, strengthen your immune system, boost your creativity, and more! It's time for you to push past those mental blocks with the 90 day Meditation challenge!Written by Kyla Dagenais, a yoga instructor and meditation teacher, and Tim Ebl, a licensed Heartmath Certified Coach, The 90 Day Meditation Challenge: How to Build a Daily Mindfulness Practice will teach you how to get started, build habits, and succeed with Meditation!Inside this comprehensive, step-by-step guide, you'll discover the ground-breaking 90-day challenge that will show you:How to Sit, Start, and Succeed With Ease!The Simple Ways You Can Turn Meditation Into a HabitHow to Release Tension...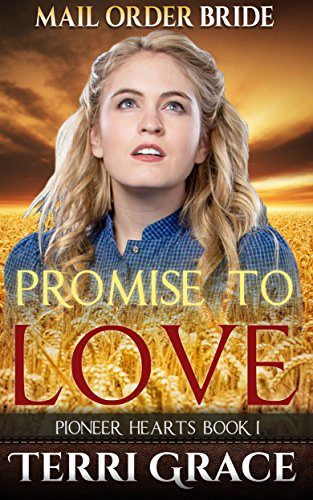 PROMISE TO LOVE (Pioneer Hearts Book 1)
$

7.00
With her father's plummeting business and health, 21 year old Josephine Hayden is urged to ease her parents burden and accept an invitation to join hands with an unknown Western man in Cowtown, Kansas. Her first sight of blue-eyed Clae McKinley and his twin brother, Harland, is encouraging, but when she is presented with a contract outlining her responsibilities as a Mail Order wife overwhelming fears of a loveless marriage besiege her tender heart.Josie's nervous efforts to live up to her side of the 'bargain' take a surprising turn that exposes not only her own fears, but the true heart of the man she has been joined with.Family ties, leaps of faith, handsome thick-as-thieves twin brothers, rattlesnakes, runaways and true grit tender romance make this a story full of Western promise!FRONTIER HEARTS is a heart warming collection of Wild Western romances celebrating the courage of young Mail Order Brides and...
Finding Your Grace Place: Discover God's Purpose for your Life and Flourish
$

5.99
Who is this book for?It's for the person that desperately wants to play the part God intended for them to play.Or maybe you're the person that knows there is more for you in life, but aren't sure how to get there. Either way, hopefully by the end of this book you'll know that you are so loved by God and that He has an amazing plan for you and that you can walk out that plan for your life.I don't care if you're 9 or 99, you can move in the direction of His calling for you. You can do it. You must do it.There is a world out there that is desperate for that talent you have.This is not your typical "Find Your Purpose" book.The main point Ryan emphasizes throughout this whole book is that to completely fulfill the calling God has for you you're going to have to...
The Soul & The Brain: A Conversation
$

9.95
As the ego of a brain analyzes why things have not been going as expected in life, the Soul shows up and explains things in a way that the brain has yet to realize; leading the brain through an experience of surprising revelations that alter the course of its journey forever. A powerful and masterful dialogue between a curious mind and the Soul, with valuable insights into humanity's spiritual boundaries.
A Western Tale of Rivalry and Love: A Historical Western Romance Book
Bella's last promise to her late father was that she will handle the ranch, until her younger brother comes of age. When she feels utterly lost and incapable of dealing with it, her old best friend reappears in her life. Their families have been rivals for more years than she can remember, but she believes in her heart that Damon is a trustworthy person. However, is trusting him a wise t decision?Damon Beeson has turned to a ruthless businessman, since he lost his whole family due to smallpox. Conflicts about ranches borders have ruined his precious friendship with Bella many years ago. Motivated by sordid gain, he knows that expanding his business will be a piece of cake now that Bella's father is out of the picture. Persuading his long lost friend to sell their ranch will prove to be a much more difficult task than he expected. Will he...
Runaway Heart: A Clean and Wholesome Sweet Romance Contemporary Christian Romance
$

12.77
"Present day fairy tale" "Heartwarming" "Delightful" "Another amazing Christian fiction novel"Running at the first sign of opposition is nothing new to Kyla Parrish. She's never held onto a relationship for more than a few months, and she's quit more jobs than most people apply for. Until Will Lachland. He's the first man who ever made her think of getting serious about something, about putting down roots. But she can't forget her mother's ominous warning; Men are users. They take and take and leave nothing but a shell of the woman she used to be. Fear of losing her heart to anyone or anything has kept Kyla running all her life. This time, she runs from Chicago to the family farm where she spent her happiest childhood summers. A new life and a new chance at romance seem like the answer to her prayers. But things are never as simple as...
Finding Eden
$

12.99
When he is asleep he is tormented by nightmares. When he is awake he is driven by an obsession. Dr. Phineas Crook is convinced that the Garden of Eden still exists and that it can be found. Ridiculed by colleagues, his friends warn that his career and health are in danger. But Phineas won't rest until he finds the mysterious Garden and mines its secrets. When the beautiful Ruth LaPhage enters his life with unlimited financial resources and the backing of LaPhage Industries - a world leader in artificial intelligence research and application - Phineas is immediately on guard. Sucked into a world beyond his control, the deception and lies begin to mount as long-held secrets are dug up and exposed to the light of day. No longer an academic exercise, the search becomes all too real, and Phineas Crook can do nothing to stop it. The quest is on...
No Greater Love
$

10.99
For the most part, Kirby Shelton is content with her life. She's building a new law practice in Colorado Springs, after losing her first in a bitter divorce, and loves to skydive in her spare time. Then she meets Leah Dalton, the computer software queen, and her world is suddenly turned upside down. Leah, facing a losing battle with cancer, comes to Kirby with a plan to end her life on her terms. Inviting Kirby, and five of her closest friends, to her estate, she offers to make one of them a multi-millionaire. All they have to do is kill her and make it look like an accident.It sounds like something out of the Twilight Zone, but Kirby gives into her morbid curiosity and takes Leah up on her invitation. After meeting Leah's friends and sensing the love and dedication they have for this woman, it's easy to assume one...
Brownstone: A Jack Elliot Thriller (The Jack Elliot Thriller Series Book 1)
$

9.99
One Secret--Devastating consequences.Jack Elliot isn't an ex-cop or marine. He doesn't know martial arts, hand-to-hand combat, or even how to fight. He's just a journalist from Montreal returning home to NYC to pay respect to a dying uncle.An uncle with a secret.It isn't long before Jack is twisted into a plot so thick with murder, mystery, and deceit that he's racing just as hard to save his life as he is to find the truth.If you like fast-paced action thrillers twisted with mystery and hidden truth like novels by Dan Brown, Clive Cussler, and James Rollins, then you'll love the first installment in Dean Kutzler's Jack Elliot series.