Rarity Mountain (Love, Hope, and Faith Series Book 3)
$

14.99
No job. Little faith. A paralyzing secret and a life-changing survival show. On the surface, SIMON FINCUFF and FERN STRONGBOW have nothing in common. Simon has served his sentence, but his past conviction still haunts him. Fern is a veterinarian and grew up on an off-the-grid homestead. The one thing they share? Each has a dark secret they would do almost anything to protect.When their current careers are yanked away, they are left scrambling to pick up the pieces. A reality television show falls into their paths, offering a life-changing opportunity that tests their resolve and their faith. These two unlikely partners must battle to survive for thirty days in the untouched wilderness of Rarity Mountain with only a handful of survival items and a director who is out for drama, no matter the cost. With their lives and their carefully guarded skeletons on the line, they will discover how...
The Andersens Saga Series Boxed Set 2: Box Set II (Books 5 – 8)
$

2.99
CONTENTS:5- Choices6 – Regrets7 – Remember8 – ForgivenTHE ANDERSEN FAMILY SAGAThis is an ongoing series and best read in order.Livia Andersen was a woman who held her family together with a quiet smile and an iron will. Book 5 – ChoicesTrisha Slavik knows better than most that sometimes you don't always get the answers you're looking for. She knows too that all too often there may be no answers to be had at all. And that living with either isn't always easy.As the oldest daughter in her family she has always been the one to look out for everyone. Now when she least expects it she finds herself protecting someone she has the least desire to. And if she could avoid it she would. But it's not just about him anymore. It's about those closest to him.Noah Andersen is many things…her uncle, her mother's oldest brother, and a force to...
Mine
$

3.99
Two hurting people. Two continents. Two countries. And the same God, who sees them both and calls them to more.For years, Quinn Cullen has overseen the panda conservation program in Houston, dreaming of an even greater future for the zoo and its research work. When she's told that she'll have to send her most beloved panda, Jin Bao, to China so that he can enter the breeding program in Chengdu, she's both distraught and angry about the loss. To make matters worse, she's been told that once she's home from China, she won't return to the same job position and that her wealthy father, the panda conversation program's main donor, has other plans for her. She finds herself at a crossroads, fully feeling the emptiness in her heart and a hopelessness that leaves her breathless.Hudson Robinson has spent the majority of his life in China and the last several years...
Martin Luther: A Life From Beginning to End (Biographies of Christians Book 3)
$

9.99
Martin LutherFree BONUS Inside!* * *Read On Your Computer, MAC, Smartphone, Kindle Reader, iPad, or Tablet.Martin Luther is famous for the moment he nailed his 95 Theses to the church door in Wittenberg, yet the scope of his influence on the modern world is hardly limited to that one act. He emerged as a leader of the Reformation, coming onto the European scene at a time when modes of thought were changing, adapting from the medieval norm of reliance on authoritative sources such as Aristotle to modern ideas of discovering knowledge through textual interpretation, experience, and experimentation. Inside you will read about...✓ From Law Student to Monk✓ The Angry Monk✓ 95 Theses✓ Debater, Reformer and Heretic✓ Knight George✓ Defining the Lutheran ChurchAnd much more!As his life followed a tumultuous path from student to monk to reformer and church leader, his emphasis on salvation by faith and the authority of the...
The Christmas Mail-Order Bride (Holiday Mail Order Brides Book 1)
$

9.99
A Holiday Mail Order Bride Romance!The Christmas Mail Order Bride is the first in the Holiday Mail Order Bride Series! Enjoy these sweet romances as you read about characters falling in love during some of your favorite holidays!Sheriff Clayton Riley asked for a pair of boots for Christmas, not a mail order bride! Unfortunately for Clayton, his brother and mother figured a bride would look better on him than a new pair of boots! After all, he'd been sulking around long enough after the death of his wife, and his family decided it was time to take matters into their own hands and see to it Clayton had a very merry Christmas!Summer James was young, she was beautiful and, an impoverished orphan. Who would want such a woman? Obviously no one. For here she was, eighteen and now of age to set out on her own. But New Orleans was...
The Invitation (Kinsman Book 1)
$

10.99
Kevin Marshall is trapped in a miserable existence with a boss and a fiancé who despise him.The Monday night before Thanksgiving, however, through an act of kindness to a stranger, Kevin receives an invitation to begin a new life and awakens the next morning to find himself living his dream.Now Kevin must discover how to let go of his past and accept the invitation for himself before his new life ends as suddenly as it began.You are invited…to experience the power of faith, the joy of love and the magic of Christmas in this holiday story of life choices and second chances.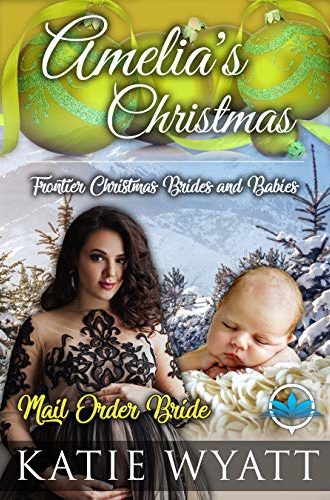 Amelia's Christmas (Frontier Christmas Brides and Babies Series Book 2)
$

7.99
Clean and Wholesome American Mail Order Bride Historical Tales short story romance.Best Selling Author Katie WyattAlways Free on Kindle Unlimited.Sometimes, you just have to take a leap of faith. Amelia Velrose does exactly that when her father passes away, leaving her and her little brother bereft. Promising herself as a mail-order bride to Cassidy Montgomery, Amelia entrust her brother to her hometown pastor and ventures West to find a new home for them. What she doesn't expect is that she'll quickly fall head over heels for her handsome, kind new husband.The course of true love never did run smooth, however, and when snake in the grass Copper James starts causing trouble, Amelia finds her brand-new relationship fraying at the seams.Will Amelia's faith see her through?Will Cassidy trust that his new wife has only the best intentions?And will Copper James and the corrupt sheriff get their just desserts?Hop a train out...
Bogged Down by Murder (Nothing Shady Ever Happens in Shady Valley Book 1)
$

11.99
City girl, Daisy McQueen, inherits her grandmother's farm in the mountains of East Tennessee, Shady Valley to be exact. Daisy owns a company, Smart Living, that teaches people how to live healthy, and she is used to city life. Shady Valley only has one small store and one restaurant. Daisy finds a dead body in her cranberry bog, and she is the number one murder suspect. Harry Greer helps her with her investigation without realizing Daisy is one of the richest women in the world with her company, Smart Living.Hunters are secretly entering her property from the Appalachian Trail at night. Harry wants to protect her, but Daisy wants to teach the people in Shady Valley how to eat and live healthy. Someone wants her dead.
Merry Murder and Small Town Santas (A Katy Cross Cozy Mystery Book 4)
$

10.99
It's beginning to look a lot like Christmas as Katy Cross, along with the other fine folks in Skeeterville, celebrate Santa Shopping Days dressed from head to toe in their finest Kris Kringle attire.Merry soon turns to scary, however, when a Santa is found dead on the floor at Sweet-Ums Bakery. Katy would love to stay away from the festive foul play, but when an obvious frame-up causes the wrong man to be arrested, she quickly gets pulled into the middle of the Christmas calamity. Katy has her very own nightmare before Christmas when her husband John goes from being the lead witness to the lead suspect. Can Katy find the real killer in time, or will she be having a blue Christmas without him?This humorous holiday cozy mystery contains no graphic gore, foul language, or sexual content. It is a great book for those readers who enjoy southern charm...
Putting our best book forward
$

0.99
Find the Success You've Been Searching ForWhat is it you've yearned to BE? A writer? An entrepreneur? A great parent? What is it you've longed to DO? Leave a legacy? Change a piece of the world? Change yourself?Maybe you've come to believe that success is only for others, and not for you. Don't give up on your dreams! There's an easier way to find the success you've been searching for. It doesn't have to be so difficult!Using real-life examples and personal stories in this short series overview, best-selling author and coach, Michal Stawicki reveals how to:Re-write your life into a story of change and plant your feet on your own path to success.Stop understating your capacity for greatness, and discover what you're truly capable of.Achieve your desires without figuring everything out on your own — or starting from scratch again.Change your life for the better — at your own perfect...