Welcome, book lover! Are you looking for Kindle book deals? OHFB features limited-time sales of the best free and bargain Kindle books from the biggest publishers and bestselling independent authors. These are today's featured books:
Alien Species Intervention: Books 1-3: An Alien Apocalyptic Saga (Species Intervention #6609 Book 1)
by J.K. Accinni
$

0.99
****WARNING**** This book is NOT for sensitive readers. Contains UNSPEAKABLE HUMAN VIOLENCE.Alien Species Intervention #6609, is an alien apocalyptic saga spanning 200 years from the Prohibition to the distant future. It encompasses tender love between divergent species, political downfalls and acts of unspeakable violence. When you think you've figured it out . . . WHAM! You won't see it coming. Thriller, horror, science fiction and fantasy all in one, the series is a gripping psychological ...
KINDLE
Edwina
by Willow Rose
$

3.99
A terrifying nail-biting horror story from the Queen of Scream Novels!Marie-Therese is about to take in another child in foster care. But Edwina is no ordinary girl as Marie-Therese is about to discover. Stories of death and destruction follow her trail and soon events in the small Danish town will take a decidedly macabre turn on one horrifying and endless night. EDWINA is a spinoff from the third book in Willow Rose's Rebekka Franck Series ...
KINDLE
The Merchant
by VR McCoy
$

2.99
It's the birth of Jazz, prohibition New Orleans; Gangsters, Vampires, Crooked Politicians, Angels and Demons roam the Crescent City. An immortal that's been around since the beginning of the AD Calendar opens a Mystical Speakeasy in Storyville. A Vampire Hunter and Demon Slayer, cursed to walk the Earth for eternity. He's faced with an apocalyptic decision that will grant him redemption, but at what cost? Cursed by Heaven and Feared by Hell!
KINDLE
Scary Dead Things (The Tome of Bill Book 2)
by Rick Gualtieri
$

4.99
There are reasons we fear the night. He's STILL not one of them.Bill Ryder, the trash-talking geek from Bill The Vampire, is back and about to find himself in a whole new world of side-splitting insanity.One of the most powerful vampires on the planet wants Bill's head. A crazed immortal princess wants the rest of him. It's a toss-up which fate is worse.All the while, new and powerful forces have begun to emerge from the ...
KINDLE
Husk
by D.P. Prior
$

4.99
Set in the world of Annals of the Nameless Dwarf...A powerful demon known as a husk crosses the mountains, leaving a trail of the dead in its wake. When efforts to track the killer end in disaster, the task falls to a man not expected to succeed: the Maresman, Jebediah Skayne, Lothario, hustler, hunter of nightmares.. Jeb has been hunting husks his entire adult life, but there's something different about the trail leading to the ...
KINDLE
The Devil's Pets (Paranormal Enforcement Administration Book 1)
by Alex Siegel
$

2.99
The Paranormal Enforcement Administration is a top-secret government agency dedicated to battling vampires, werewolves, witches, and other supernatural creatures. Their missions are fierce and deadly. A man named Stony is the leader of an elite team within the agency, and he has the power to make his skin as hard as stone. He once served a demon, but now he destroys evil instead. In The Devil's Pets, Stony must stop a serial killer who kidnaps ...
KINDLE
Grotesquery: a short story
by A.L. Blacklyn
$

0.99
A city-state... The magical order of King's Capitol is threatened.A lost guardian... Memories drive a former king's guard away from her duty.A pensive wizard... Head Royal Wizard Iel must face his life's regrets to restore the peace.❧When life ends, it begins in a different form.
KINDLE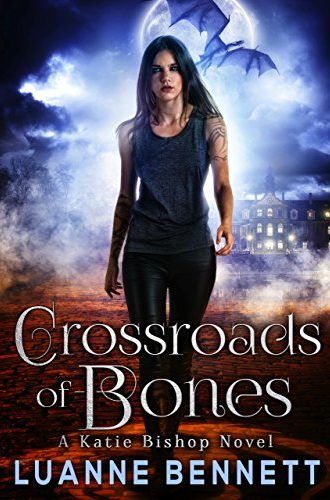 Crossroads of Bones (A Katie Bishop Novel Book 1)
by Luanne Bennett
$

2.99
If you're looking for a smart heroine with a serious sense of humor, Katie Bishop is your girl. Toss in a sidekick like Lady Sugar who will have you laughing out loud, and you've got a recipe for addictive fantasy! Hoodoo, witches, shifters—all thrown together in one of the most haunted cities in America. You've got to be dead not to enjoy this ride!Most people think I just own that dive of a tattoo shop ...
KINDLE
To Bleed A King (Legacy of the Dreamer Book 2)
by Macaela Reeves
$

2.99
A brief respite from the bloody chase brings little peace to the chal'sei. Beneath the luxury of their island sanctuary a dark betrayal lays a vile curse on one of their own. Alina Sinalae, fresh off the remulant's butcher table, now lingers between life and death, tormenting her companions as she slips ever closer to the Veil. Her gruesome condition leaves Arn Iskande little choice but to put his faith in their host, the eccentric ...
KINDLE
A God for Thieves (The Unseen Book 1)
by Jeffrey Bardwell
$

2.99
Jack Severn has a knack for encountering the magical side of reality. When he wakes up from an impromptu communal nap at a favorite Chinese restaurant, he recognizes the signature of a supernatural event. Now he's in a race against time to find the people responsible before the secretive and powerful god of thieves decides to punish him instead. As he searches for the answers that will save his skin, he'll be pulled even farther ...
KINDLE