Welcome, book lover! Are you looking for Kindle book deals? OHFB features limited-time sales of the best free and bargain Kindle books from the biggest publishers and bestselling independent authors. These are today's featured books:
Dragonlands
by Megg Jensen
$

0.99
Enter the world of Dragonlands with the first three novels from this bestselling epic fantasy series. Includes: Hidden, Hunted & Retribution
KINDLE
All In: A Prequel (The Sagittan Chronicles Book 0)
by Ariele Sieling
$

2.99
Quin Black is bored. All he does is work, sleep, and work some more. When he gets reassigned to the menial task of categorizing old, confiscated Doors, he slips back into one of his old habits--gambling. His first night out, the venue explodes and Quin leaves thousands in debt to the dealer. But the dealer makes him an offer--go through three Doors and find out what's on the other side, and he will erase Quin's ...
KINDLE
Desolation (The Keystone Bone Trilogy Book 1)
by Jesper Schmidt
$

2.99
Eons has shrouded the giant dragon in legend. Ancient myths soon become terrifyingly real…Aea is an outsider. At age six the clan executed her father and when her mother and sister disappeared, Aea's life spiraled into chaos.Suddenly staggering out of the woods, broken by the deadly disease the Field Blight, her mother lays a desperate choice on Aea. To leave the protective forest realm and save her sister from mortal danger.In a race against time, ...
KINDLE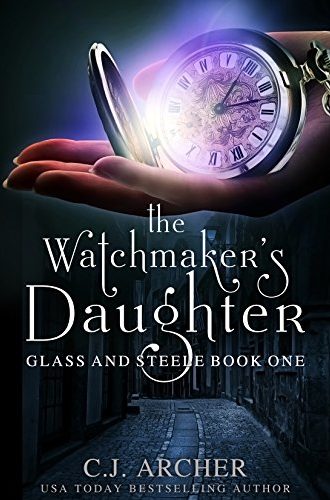 The Watchmaker's Daughter (Glass and Steele Book 1)
by C.J. Archer
$

4.99
USA Today bestselling series.India Steele is desperate. Her father is dead, her fiancé took her inheritance, and no one will employ her, despite years working for her watchmaker father. Indeed, the other London watchmakers seem frightened of her. Alone, poor, and at the end of her tether, India takes employment with the only person who'll accept her - an enigmatic and mysterious man from America. A man who possesses a strange watch that rejuvenates him ...
KINDLE
Virgin Beast Mate (Beast Mates Book 0)
by Milana Jacks
$

0.99
Save your cookie for the monster.Reem lives a secluded, sheltered life inside Community One. Sold to one of the alien beasts who now rule the Earth, inexperienced young Reem is terrified she won't know how to please her husband. and he'll end up eating her instead of bedding her.After years of waiting, Troy finally gets his mate. When he lands her on his lap during their pairing party, he confirms her virginity. He can't wait ...
KINDLE
Winter Fae (Armored Hearts)
by Pauline Creeden
$

1.49
~The Short Story Prequel to ARMORED HEARTS (Steampunk Fantasy)~Once upon a time, a fairy princess gave up her home, her family, and her birthright for the love of a human lord. But life outside has made her sick. When she returns to the land of fae with her son, she discovers things are not as they should be. Will she find the healing she so desperately seeks for herself and invalid son? Or will she ...
KINDLE
Magic of the Gargoyles (Gargoyle Guardian Chronicles Book 1)
by Rebecca Chastain
$

0.99
To help a baby gargoyle, Mika will risk everything..."I freaking love this book! ...All I can say is I think you should read this." (Happy Tails and Tales ★★★★★)Mika Stillwater is a mid-level earth elemental with ambitions of becoming a quartz artisan, and her hard work is starting to get noticed. But when a panicked baby gargoyle bursts into her studio, insisting Mika is the only person she'll trust with her desperate mission, Mika's carefully ...
KINDLE
Mind Machines (Human++ Book 1)
by Anna Zaires
$

0.99
From New York Times & USA Today bestselling author Dima Zales, an intense new techno-thriller that pushes the limits of what it means to be human. With billions in the bank and my own venture capital firm, I'm living the American dream. My only problem? A car accident that leaves my mother with memory problems.Brainocytes, a new technology that can transform our brains, could be the answer to all of my problems—but I'm not the ...
KINDLE
The Mage's Grave: Mages of Martir Book #1
by Timothy L. Cerepaka
$

0.99
Book One in the Mages of Martir seriesThirty-five-year-old Darek Takren always did his best to keep up with the demands of the prestigious North Academy, a magical school where only those with the drive to succeed are allowed to learn. Having lived in the school for his whole life, Darek Takren sees North Academy as his home, a sanctuary safe from the troubles that plague the outside world.But when his best friend is injured in ...
KINDLE
Anathema (Cloud Prophet Trilogy Series Book 1)
by Megg Jensen
$

0.99
From USA Today bestselling author, Megg Jensen...Forget prophecy. Make your own destiny. Sheltered from the outside world with no hope for escape, slave girl Reychel dreads her fifteenth birthday - when her master's symbol is burned on the back of her bald scalp. Her best friend disappears the night before, leaving her to face the branding ceremony alone. She soon discovers nothing is as it seems when people desperate for freedom beg for Reychel's help.Can ...
KINDLE